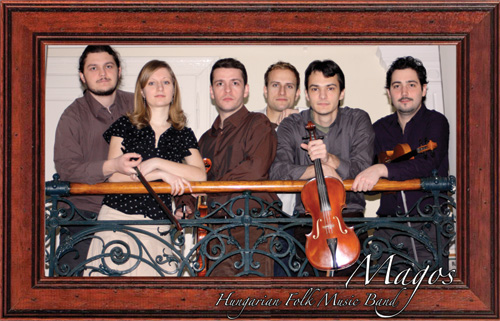 Last year's co-winners of the highly competitive FOLKBEATS Hungarian nationwide talent search competition, the Magos Band, are coming to America!  
The American/Canadian tour of Magos will take place in April to May 2012, throughout North America.  Check back here soon for dates as they are solidified!
Magos is one of Hungary's brightest and upcoming bands in the Hungarian folk music scene. They are a part of the generation of folk musicians who may be the last links to the line of great masters of folk music who lived and preserved folk music for centuries, in the remotest villages of Hungary and Transylvania. Now it is their generation who are called to keep the authentic folk music alive and pass the heritage to future musicians. The musical philosophy of Magos is to learn and present Hungarian folk music in its archaic form and share it with future generations.
The band was selected by a distinguished group of judges over five months of competition involving some of Hungary's top folk musicians, culminating in an internationally televised final round last year in Budapest, as part of the FOLKBEATS talent search competition. Out of almost 100 competing groups, they won the best folk music band award. The winning prize – a North American tour.
Magos's repertoire is rooted in authentic Hungarian music, also known as "Táncház music," from the Carpathian basin, including Hungary, Transylvania and parts of Slovakia. Where possible, the group's performance will conclude with Hungarian folkdance teaching and a glimpse into the "Táncház music" phenomenon, through which the audience experiences the wonderful Hungarian culture not ONLY by listening, but also by participating – the way it should be.
The group's members are:
Csaba Soós – violin
Márton Kovács – violin
Ágnes Enyedi – vocal
Tamás Enyedi – cimbalom
Márton Fekete – brácsa
Dávid Horváth – bass