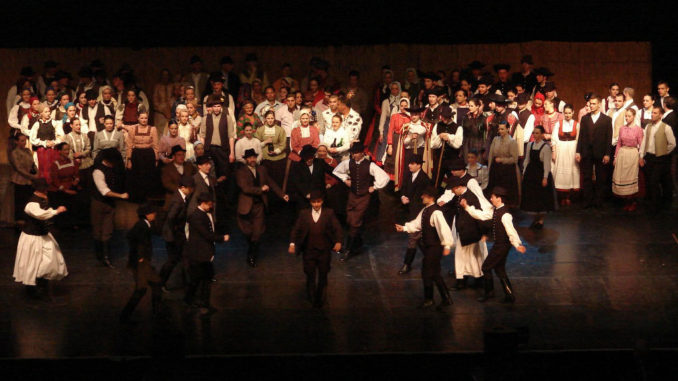 This year I had the good fortune of attending the annual Tanchaztalalkozo (the largest Hungarian folkdance and folk music gathering in Budapest), which was, as usual, rich with diverse and top-notch fol programming.  You can access the full programme (in Hungarian) here (click on "Letoltes").  The next three blog entries share my own impressions of what I witnessed over two full days of non-stop folk action during the Tanchaztalalkozo.
First, a disclaimer.  There was so much going on during the 2-day festival at Papp Laszlo Sportarena that it is likely there were great bands, dancers, and moments that I simply missed because I couldn't be at two places at one time.  Obviously I can only comment on those things that I witnessed myself!  And I witnessed a bunch of things, so this wrap-up is pretty limited in scope.
Now down to business.
This was the first time I ever heard Szeret Zenekar, which at the Tanchaztalalkozo featured Balazs Vizeli (violin), Daniel Szabo (cimbalom), Laszlo Mester (kontra), Gergo Csoban Szabo (bass), and singer Gabriella Tinter.  Wow.  I can't quite put my finger on it, but this group of musicians gel so well together, create so much tightness and excitement, virtuosity meets simplicity, perfect choice of repertoire, and I can go on.  In my mind, right now Balazs Vizeli is probably one of Hungary's top three folk violinists, and he's able to show his stuff with this accompaniment team behind him.  And we can't forget Gabriella, who now boasts her own solo CD – she not only knows how to present note-for-note and sound-for-sound the music of the various villages from where Szeret's music is drawn, but she knows how to entertain and carries herself incredibly well in front of this group of musical giants.  Needless to say, I was more than impressed with Szeret, and will be following their work very closely.
I wasn't surprised to hear violinist Istvan "Szalonna" Pal and his band ("Szalonna es bandaja"), whom I've heard before as the Hungarian State Folk Ensemble's band, but never before in a solo concert.  It turns out they were widely in demand during Tanchaztalalkozo, accompanying dancers during the Saturday night Gala performance but also various dance groups and teachers during the weekend.  This is of course not surprising.  Szalonna and his musical gang are among the busiest musicians of all in Hungary – they are consistent and dependable, they play the music of all the various regions as authentic as anyone, and they understand stage presence and how to roll out a performance.  It was especially nice to hear Szalonna's father, Lajos Pal, with his accordion and amazing voice give the audience a special treat.  It was good to see
I greatly enjoyed Andras Berecz's concert at the Muveszetek Palotaja which opened the Tanchaztalalkozo.  Andras' ability to spin a yarn with his storytelling is without peer in Hungary; and to top it off, he was joined by some amazing musicians, including a shockingly beautiful and moving set of Kalotaszegi hajnali tunes featuring this All-Star lineup:  Csaba Okros, Tamas Gombai, Balazs Vizeli, Miklos Molnar, Laszlo Kelemen, Laszlo Mester, Antal "Puma" Fekete, Geza Penzes, and Robert Door.  It was quite mind-blowing.  And this was just the first half of the concert – the second half featured the Honved Tancszhinhaz's performance of its director, Zoltan Zsurafszky's Kalotaszeg (Elo Martin Archivum) choreography.  This was a perfect night of storytelling, music, song, and dance.
To be continued in the next two blog entries, stay tuned!