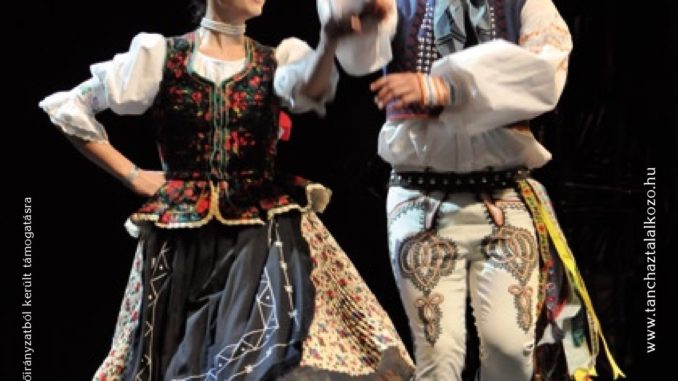 Seeing and hearing well-established, seasoned bands who have been working for decades is like eating your favorite "comfort food."  This year's Tanchaztalalkozo in Budapest, like most previous years, featured one such band – Duvo.
Duvo is comprised of four of Hungary's most well-known, well-traveled, and adored musicians:  the violin-playing Hruz brothers (Denes and Szabolcs), and the dynamic duo of accompanists – Zsolt Nagy and Albert Mohacsy.  They are also joined by vocalist Julia Kubinyi on their recordings and most of their shows.  We had the pleasure of hearing them in one of the intimate small hall venues with a CD release concert of their new recording "Van meg benne."  It was a wonderful, energetic concert, typical of Duvo – playing a wide array of music, from "nota" to archaic Mezoseg melodies, high-octane and entertaining as usual.  I especially enjoy bands that have traveled widely throughout North America give concerts in Hungary, because they are able to emcee the show in a more detailed, thorough way in their native Hungarian rather than picking the band member that speaks the best English give very cursory introductions to the numbers while they are on tour.  This adds to the overall concert atmosphere and understanding, and I always learn much more this way.  Suffice it to say, the comfort food of Duvo was delicious as usual!
Duvo also played in the arena stage during the weekend, including accompanying the "Minden Magyarok Tanca" (Every Hungarian's Dance) performance.  This performance, which my wife and I were a part of this year, is the brainchild of folkdance expert Norbert "Cimbi" Kovacs, who was struck with the idea last year (in 2011) to extend an open invitation to dancers who otherwise attend the Tanchaztalalkozo as audience members to put on a costume and dance on the large arena stage – with the condition that these dancers have to be from outside of Hungary!  This year there were dancers from Switzerland, Germany, Transylvania (Romania), North America, Austria, and I'm sure I'm missing some others.  There were two sets of improvised dances from Dunantul and Kalotaszeg performed.  The end result is not a flashy, well-choreographed and well-polished presentation.  Rather, it is a celebration of the fact that the Tanchaz movement has extended the reach of its tentacles to the entire world, and the Tanchaztalalkozo beckons "home" those that the Tanchaz movement has enraptured, and places them on the stage.  Thank you to Cimbi for organizing this effort, which is now in its second year running, and hopefully many more to come!
Speaking of performers not from Hungary, the final portion of the Tanchaztalalkozo featured a stunning performance of Tanchaz musicians from Transylvania.  It began with probably the most popular Transylvanian-based Tanchaz band – Heveder – together with one of the founding fathers of the Transylvanian Tanchaz movement, Istvan "Gazsa" Papp – in a rendition of Heveder's classic Orkoi gypsy music arrangement.  But then came the big surprise – musicians, "young" and "old" from Transylvania, joined Heveder and Gazsa on stage, from Uszturo to I-don't-know-who, playing amazing Kukullomenti and Szaszcsavasi music.  What an image it was – Gazsa in the middle, surrounded by all those who have come after him.  It was a proud moment for all of us who have a special place in our hearts for Transylvania and what it means to the Tanchaz movement.  What a way to end the festival!
My third and final blog entry of the Tanchaztalalkozo 2012 wrap-up will follow in a few weeks, stay tuned!