MUSICAL UPBRINGING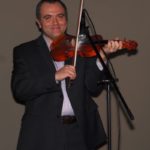 Kalman Magyar was born in New Jersey in 1973 to Hungarian immigrant parents who were actively involved in the perpetuation of their heritage throughout North America. At the age of five, Kalman was introduced to the violin through the Suzuki Method, and went on to study for a decade with Stanley Bednar at the Manhattan School of Musics Preparatory Division, where he also studied piano and viola, in addition to his intensive work in jazz, composition and theory. He rose to become the Schools principal violist until his graduation in 1991.
Parallel with his rigorous classical and jazz training, Kalman studied at folk music camps and seminars throughout the United States and Hungary. His early mentors included the late legendary Transylvanian fiddler Sándor Fodor Neti and Béla Halmos, one of the Godfathers of the Hungarian folk music revival movement. In 1987, together with his sister Ildiko and fellow Hungária Folkdance Ensemble member Attila Papp, he founded the Eletfa Hungarian Folk Music Band, which still exists today and is one of the United States treasured assets of world music.
In 1991, Kalman was awarded a prestigious full scholarship from Duquesne University in Pittsburgh to perform with the Tamburitzans, the nations leading Eastern European music and dance troupe. He toured within all four corners of the North American continent while receiving a Bachelors in Science degree from Duquesnes Business School. Through the Tamburitzans, Kalman was exposed to the fascinating world of Romanian and Balkan music, which was a logical extension of his Hungarian background.
INNOVATIVE TALENTS
In 1995, after returning to the New Jersey area, Kalman formed the Continental Dance Orchestra, the leading American-Hungarian wedding band in the United States, and helped build Életfa into an internationally-known ensemble. He was a founding member of Dallam-Dougou, a fusion between West-African and Hungarian musical styles with a jazz twist, and performed for many years with New Yorks Equinox rock band, led by Scott Krokoff. His vision also helped shape the maverick group Crossing Paths, together with cimbalom player Alexander Fedoriouk.
Kalmans classical, jazz and folk musical education and intensive performing experience has propelled him to become an in-demand violinists in the Hungarian, Romanian, Balkan, Gypsy, and Gypsy-Jazz styles, with the ability of offering wide-ranging improvisative skills. Although his primary instruments are the violin (electric and acoustic) and keyboards, Kalman also plays the viola, trumpet-violin, Hungarian kontra, bass guitar, and double bass.
PERFORMANCE EXPERIENCE
Kalman has collaborated and performed with several well-known artists, including the Mark Morris Dance Group, Márta Sebestyén, Raif Hyseni & Merita Halili, Kálmán Balogh Gypsy Band, Ismael Lumanovski (Smajko), Csik Band, Kalin Kirilov, Souren Baronian, Ökrös Ensemble, Ivan Milev, Harmonia, Beyond the Pale, and Zlatne Uste. In 2003, Kalman was plucked from a great number of violinists to audition for Cirque du Soleil by its casting department. He has played for celebrities, politicians and dignitaries at the United Nations, Hungarian Consulate in New York, the Hungarian Embassy in Washington, D.C., the New York and New Jersey Governors Mansions, the Hungarian Cultural Centre in London, New York City's Gracie Mansion, and even at a U.S. Senators private residence.
Kalman has appeared in world-class venues such as Epcot Center (Orlando, Florida), Library of Congress (Washington, D.C.), B.B. Kings Blues Club (NYC), Alice Tully Hall (Lincoln Center), Joes Pub (NYC), Fiddlers Elbow (London, UK), Knitting Factory (NYC), Place-des-Arts (Montréal), Bitter End (NYC), New Jersey State Theater, Tonic (NYC), HotHouse (Chicago), Brooklyn Academy of Music, Trumpets Jazz Club (Montclair, NJ), Liberty State Park and the Statute of Liberty, Tennessee Performing Arts Center (Nashville), Living Arts Centre (Mississauga), Town Hall (NYC), Heinz & Benedum Halls (Pittsburgh), the World Trade Center (NYC), and with the Christmas Revels on Broadway (at Symphony Space). The many other cities he has played in include Sao Paolo (Brazil), New Orleans, Las Vegas, Toronto, Miami, San Francisco, Chicago, Houston, Miami, Boston, Austin, San Diego, Detroit and Cleveland.
Kalman has been a featured performer at several music festivals, including the Mondial Des Cultures (Drummondville, Quebec), St. Ceciliatide International Music Festival (London, UK), DjangoFest Chicago, Clearwater Revival Festival (New York), South American Hungarian Folkdance Festival in Caracas (Venezuela), Classical Mandolin Society of America Convention (Toronto), Salon De Virtuosi (New York), Millrace Festival (Cambridge, Ontario), International Flower Festival (Hungary), Budapest Spring and August 20th Festivals (Hungary), Eisteddfod Traditional Music Festival (Brooklyn), and scores of Hungarian Music and Dance Festivals (Calgary, Vancouver, Montreal, Toronto, Louisiana, New York).
MUSICAL PROJECTS
Kalman has arranged music for the Tamburitzans and several other Hungarian and Balkan performing dance groups. His own music has been featured on soundtracks of films such as Mix, a Lovy Brothers film, and Haunted, a short film produced by Different Studios. He also composed music for and performed on CBSs nationally televised Sunday Morning show. He has appeared live on Toronto's Breakfast TV show, WQXR and WFMU radio stations, and WNBC television in New York City, and his recordings can regularly be heard on various radio stations around the world.
Kalman has taught violin and ensemble classes at the Balkan Folk Music & Dance Workshops in New York and California (Mendocino) organized by the East European Folklife Center, the Csipke Hungarian Folkdance and Music Camp in Michigan, and at the American Hungarian Folklore Centers Folkdance and Music Symposia in Pennsylvania. He performs with the Gyanta Band of Toronto and Montreal. He also plays the organ, piano and violin at Roman Catholic parishes.
Kalman has personally appeared on several recordings with a wide array of artists, including collaborating as a featured soloist on recordings by international folk/world music sensations Csik Band and Merita Halili & The Raif Hyseni Band. He also produced Visszhang (Echo) for Hungaria Records, a compilation of Hungarian folk bands from North America, the first of its kind outside of Hungary.
Together with his wife and three children, Kalman now lives in Toronto, Canada and runs the Magyar Law Firm.